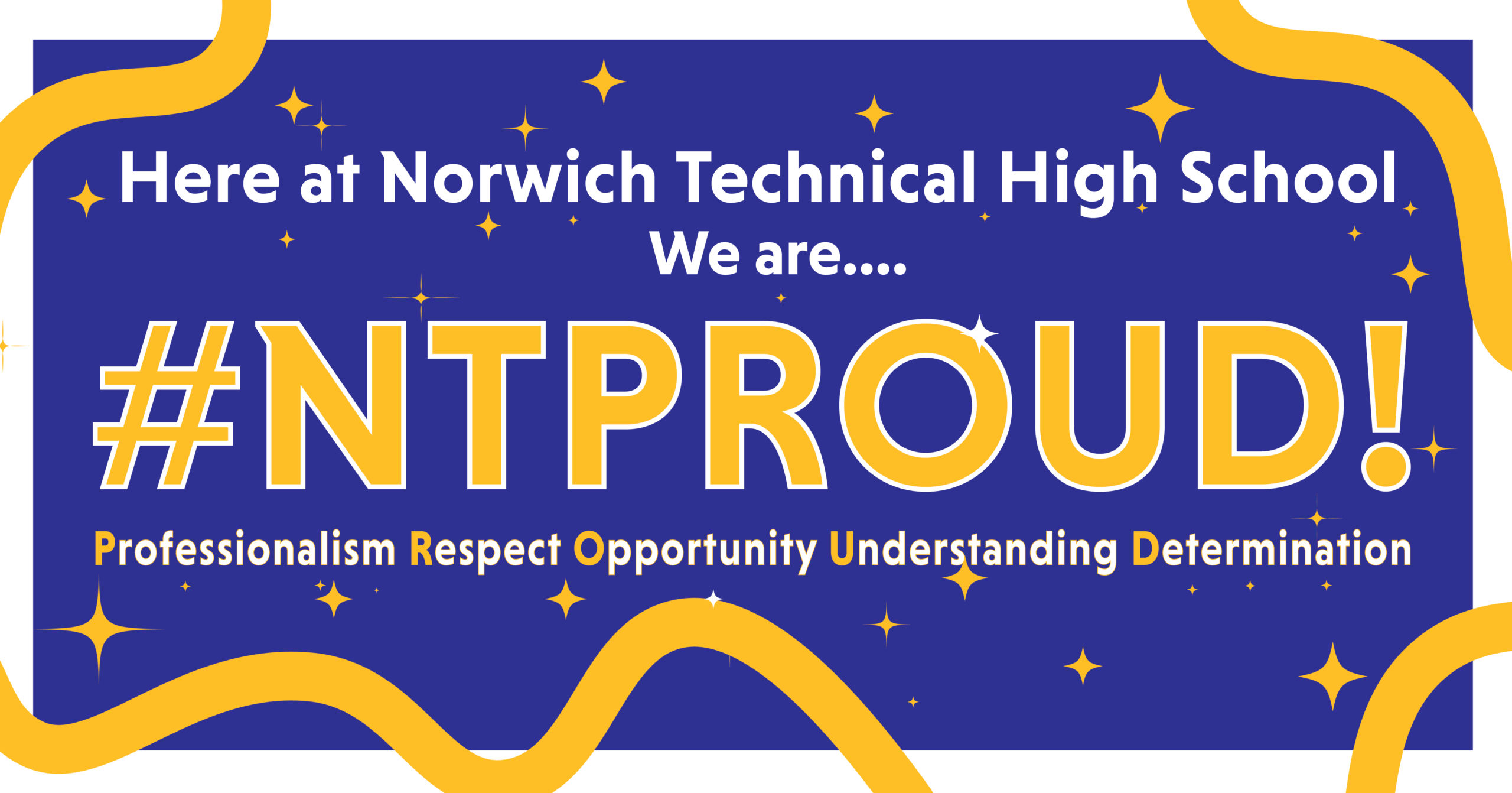 Norwich Technical High School Core Values, Beliefs, and Learning Expectations
MISSION STATEMENT
To provide a positive and rigorous learning environment that ensures academic success and career technical education mastery, while promoting enthusiasm for lifelong learning.
CORE VALUES
NT
Professionalism
Respect
Opportunity
Understanding
Determination
BELIEFS ABOUT LEARNING
Norwich Technical High School is committed to providing a safe climate that fosters the growth and development of all individuals.

All students have the potential to achieve, given a variety of learning styles and needs.

The staff is dedicated to implementing challenging academic and trade curricula with state of the art technology, equipping students with the necessary skills for achievement.

The school community promotes the development of soft skills required for future achievement in education, employment and life.
LEARNING EXPECTATIONS
Academic & Career
Students will be able to:
Demonstrate appropriate workplace and academic conduct and communication.

●

Make effective use of content knowledge, to think critically, to solve problems both individually and collaboratively.

Use state of the art facilities and technologies to offer a wide range of career technical, core academic and elective courses which address both educational requirements and personal interests.

Obtain specific career cluster occupational competencies, based on current industry standards, technology and practices.

Transition from school to career pathways: including postsecondary education,

apprenticeship, immediate employment and the military.
Social & Civic
Students, Faculty & Staff will be able to:
Provide a safe, positive learning environment that reinforces the value of relationships, community, camaraderie, mutual support and respect.

Foster self awareness and empathy for the views of others to promote social discourse and citizenship.

Participate in programs and courses that respect, value, and provide learning opportunities from diverse perspectives, cultures, races, ages, genders, sexual orientations, and religions.

Develop the ability to interact respectfully with all people and understand individuals' differences as emerging global citizens.