Welcome to Carpentry!
Instructors
Course Breakdown
Connecticut Technical Education and Career System's Carpentry course breakdown by grade. Each student is required to complete four years of a Career Technical Education program.
| Grade 9 | Grade 10 | Grade 11 | Grade 12 |
| --- | --- | --- | --- |
| 3 Credits | 3 Credits | 3 Credits | 3 Credits |
| Exploratory and Introduction to Carpentry | Cabinetry/Millwork | Carpentry – Residential Construction | Carpentry – Residential and Commercial Construction |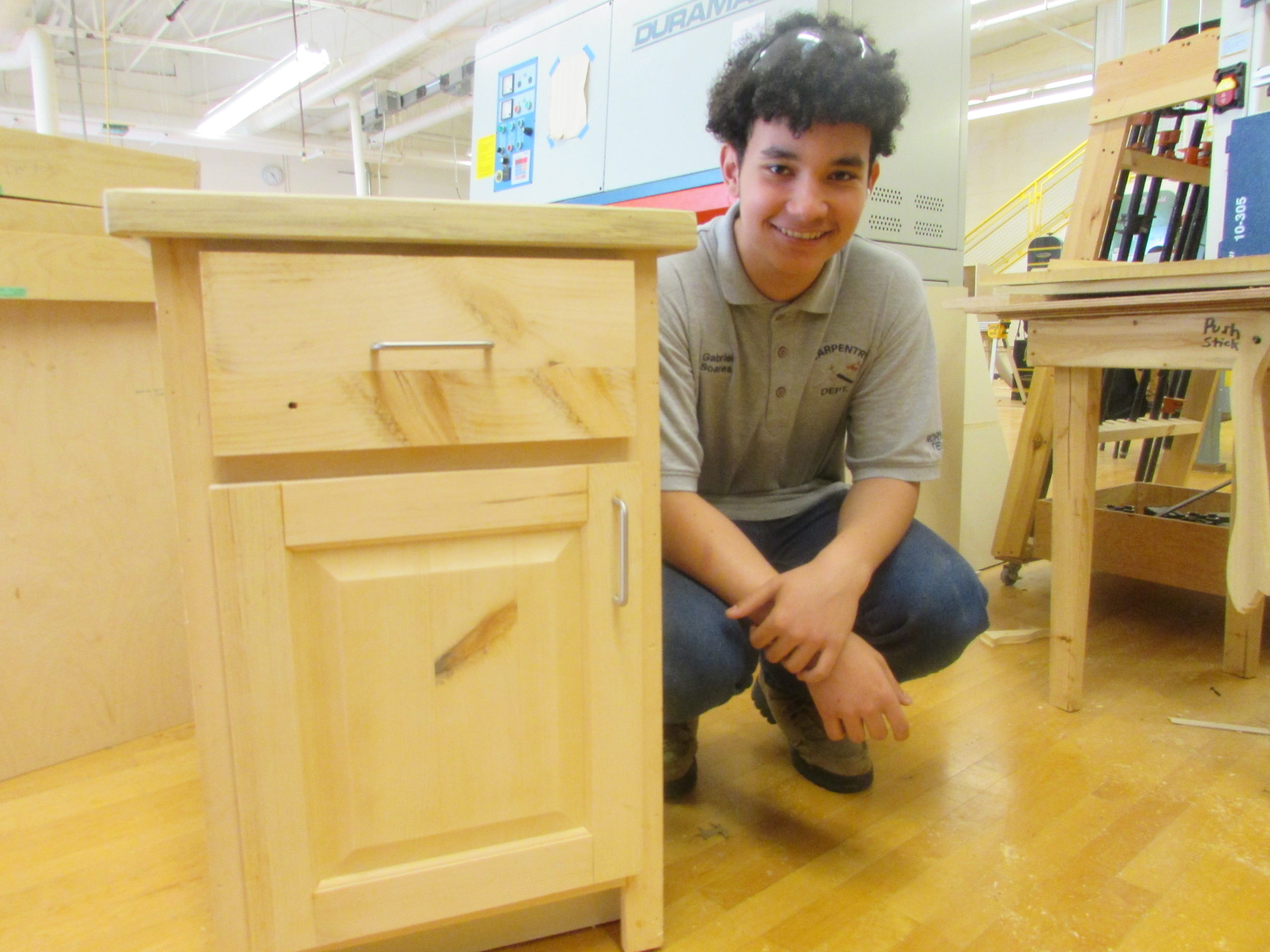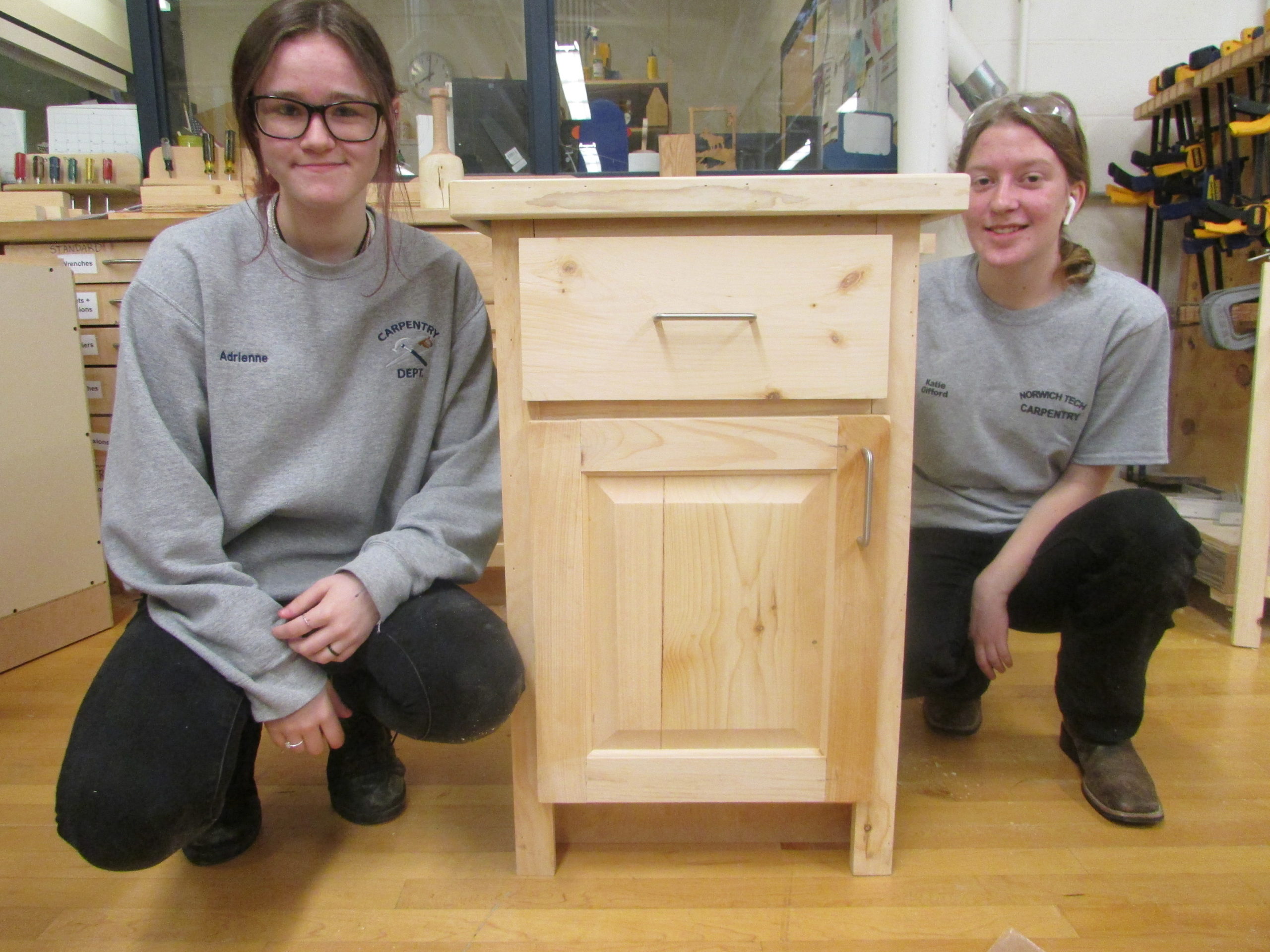 Norwich Tech Carpentry Sophomores have been diligently developing cabinetmaking skills all school year and recently completed a pine wood base cabinet for themselves. This project requires numerous woodworking machines to complete and includes a composite countertop with mitered edges. In addition to using complex measurements, the students learned how to create a raised panel door and install cabinet hardware. This project also included the creation of a drawer box and face frames using nail guns and pocket joints. Other complex elements included assembly of the cabinet case with dado and rabbet joints. This project was the culmination of many projects that students used to build foundational carpentry skills over the schoolyear.
Course Descriptions
Students successfully completing this course of study will be able to pursue a two-year construction technology degree or a four-year engineering degree. Students can obtain immediate employment in the carpentry field. Employment opportunities in residential and commercial construction include: framing, remodeling, cabinetry and millwork, custom woodworking, CNC (Computer Numerical Control) operator, drywall hanger/finisher, concrete formwork, yacht woodworking, roofers, siding installers, flooring installers, furniture maker refinishers, general construction worker, facilities maintenance construction labors and lumber supply employment.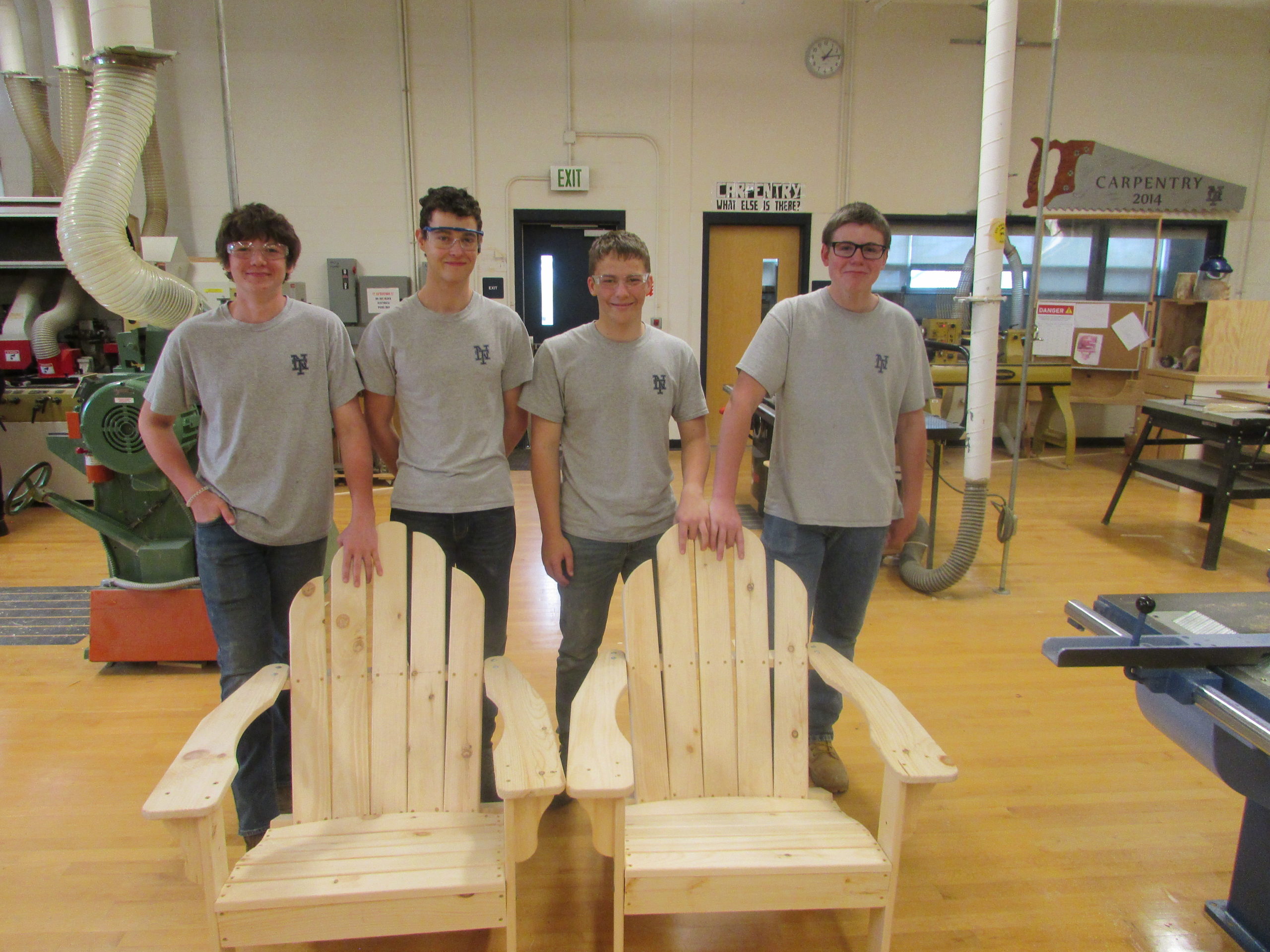 Norwich Tech Carpentry Freshman have created wide-armed, comfortably sloping Adirondack chairs to fill customer orders just in time for the summer. The chairs are made from durable pine wood assembled with deck screws. Most of the parts are cut on the computer numerical control (CNC) router, then sanded and prepped by the students. The CNC router is an efficient approach to woodworking that limits waste wood and improves accuracy and consistency. The CNC requires skills in math, information technology and machines. The Freshman who worked on the Adirondack chairs previously completed their own dovetail toolbox, a challenging project that demands accurate measurements and assembly skills. The final step for these projects involves a rigorous inspection or "Quality Control" resulting in a stamp of approval as a Norwich Tech Carpentry product. #NTProud